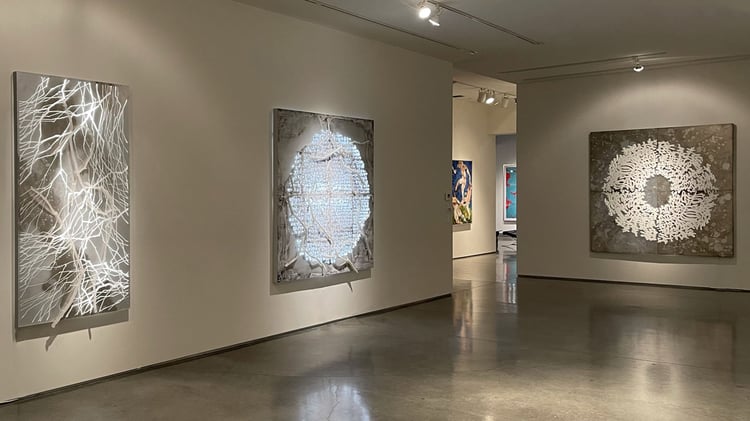 Usually, every spring, Claudia Meyer would travel to Los Angeles to spend several months in the sun and to work in her Culver City Studio so we can show new works every season. With COVID-19, that was not possible this year. Instead, she worked extra hard and shipped almost 20 new paintings and sculptures from her studio in Paris straight to us. After being delayed and delayed, finally, just recently we received the massive crate. You can now see the first works on display in the gallery.
Please call ahead to make sure we are here: 760-346-4243 option 1
Claudia Meyer is a Swiss Artist and visual Art creator who expresses her creativity through two distinct and overcrossing visual Art fields. One being Contemporary Fine Art and the other being "Industrial" Art inspired by new realism. Early on Claudia Meyer trained as a graphic designer at Hochschule für Gestltung, and Kunst in Luzern, and spent a year in Stuttgart, Germany where she worked as a graphic artist and made the acquaintance of Anton Stankowski, the grandmaster of the German design, in whose studio she was able to work. Later on, she moved to New York City where she acquired a silk-screen printing major and received several prizes while studying fabric design and modern technologies at the Fashion Institute of Technology, State University of New York. Since then she has been focusing full time on creating contemporary Art using technology, mixed media materials, and nature as her main source of inspiration. Claudia Meyer's artworks are exhibited in carefully selected Fine Art Galleries, Institutions Auctions, and Art Fairs. And has been commissioned for High-end Architectural-Design-Curator projects.
More about Claudia Meyer: www.hohmann.art/claudiameyer
Mandalight - 78" x 78"
AQUAria I & II - 79" x 47" each