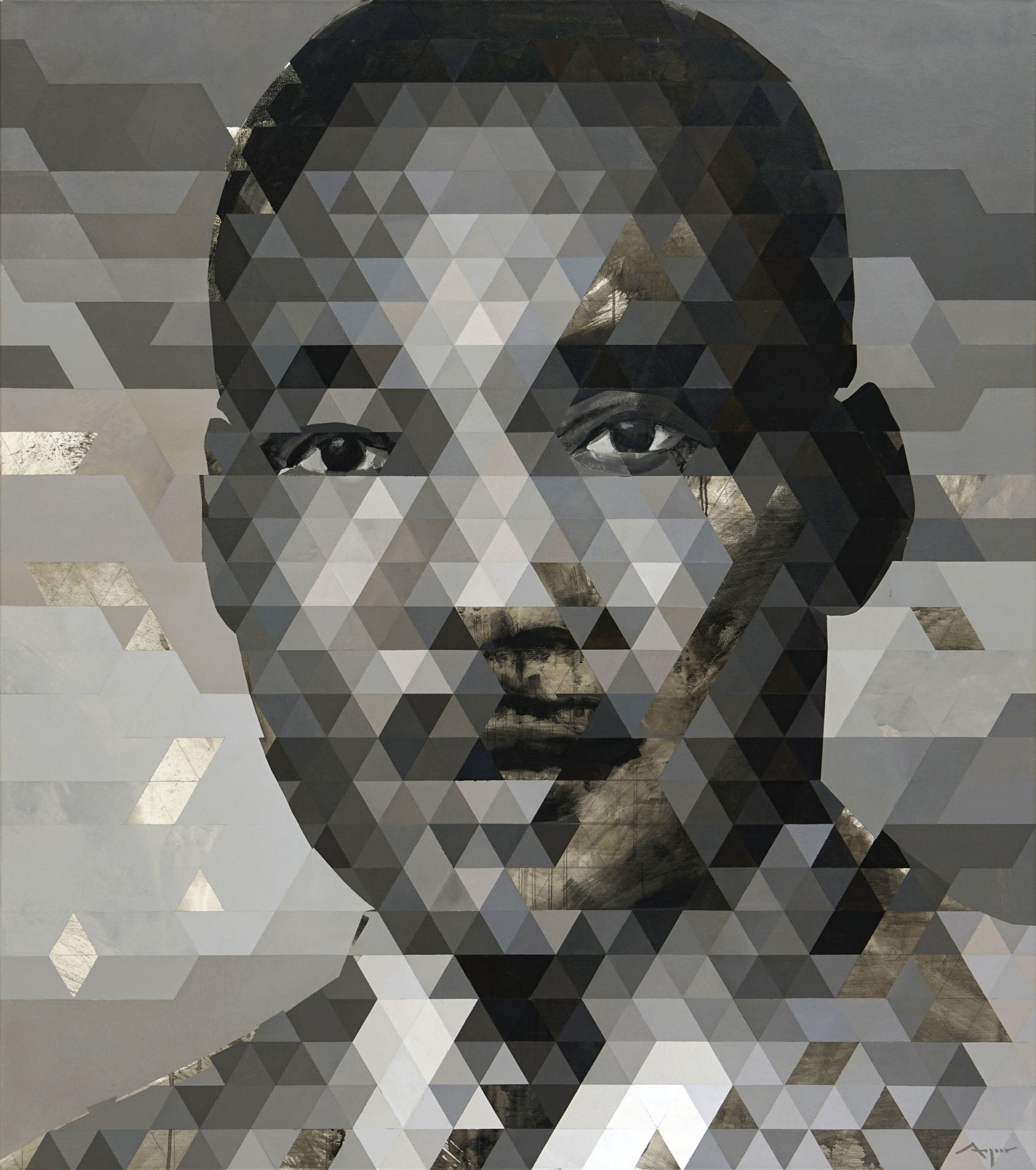 Portrait of Martin Luther King Jr. (2021) - Acrylic on Canvas - 67" x 59" - price on request
On Monday, January 17, we celebrated a national holiday in honor of the life and legacy of Martin Luther King Jr., a tireless fighter for the civil rights of African Americans who was assassinated in 1968. The date is commemorated on the third Monday of January of every year, a date close to January 15, the date of his birth in 1929.

Martin Luther King Jr. has also inspired many artists including several of our own. Last year on MLK Jr Day, Julian Voss-Andreae installed his sculpture "Garments of Destiny" in Columbus, OH. This year, we present Michael Azgour's remarkable "Portrait of Martin Luther King Jr." and other new paintings.
"The ultimate measure of a man is not where he stands in moments of comfort and convenience, but where he stands at times of challenge and controversy."
— Martin Luther King Jr.
In this portrait of MLK Jr. Azgour uses a concept of color theory to create the appearance of digital pixels that seem to dissolve the underlying representational image. The familiar iconic image of Martin Luther King takes on a life of its own. Azgour is fascinated with the media revolution of present day. While the first digital camera was patented in 1975, digital cameras wouldn't become available for common use until the early 90s. In the following 30 years our society went from taking the occasional picture to creating an endless stream of pictures and videos, recording history as it happens more complete than ever before. At the same time, the simultaneousness of imagery by friends and perfect strangers on social media has changed our visual library and the way we digest imagery forever. A painter at heart, Azgour uses his medium to reflect on this new reality by juxtaposing personal imagery and random pictures and to challenge the viewer. What we see might be real, but whose reality is it really?
New paintings by Michael Azgour are now available to view by appointment at our Village Court gallery in Palm Desert: